Day of Meditation with Pater Bertram Dickerhof in Oberhaching
Tag der Meditation
Mit Pater Bertram Dickerhof SJ
"Ein Tag in Schweigen und Achtsamkeit"
Sa., 12.10.2019
9:00 Uhr bis 17:00 Uhr
im Gemeindehaus der Evangelischen Kirchen Zum Guten Hirten, Oberhaching
Der Meditationstag verläuft im Schweigen und Achtsamkeit und regt dazu an, den Blick auf sein Inneres zu richten. Jeder ist herzlich eingeladen. Vorkenntnisse von Meditation sind nicht erforderlich.
Elemente: Durchgehendes Schweigen, angeleitete Sitz- und Gehmeditationen, gemeinsames Essen, Gespräch, am Ende Möglichkeit zur Gottesdienstfeier
Um einen Beitrag zur Deckung der Auslagen wird gebeten
Organisatorisches: Bitte bringen Sie sich ihre eigene Brotzeit zum gemeinsamen Mittagessen mit. Für Getränke ist gesorgt. Bitte bringen Sie auch warme Socken, eine Wolldecke und wenn vorhanden Meditationsutensilien mit
Termin: Samstag, 12.10.2019
Zeit: 9:00 bis 17:00 Uhr
Ort: Gemeindehaus der Evangelischen Kirchen Zum Guten Hirten,
Oberhaching, Alpenstr. 16, 82041 Oberhaching
Leitung: P. Bertram Dickerhof SJ
Anmeldung und Kontakt:
Pfarramt, Simone Nandico, Alpenstr.7, 82041 Oberhaching
Tel: 089 - 613 1781
Email: pfarramt.oberhaching@elkb.de
Anmeldung bis zum 10. Oktober 2018
Teilnehmerzahl auf 25 Personen begrenzt
Ansprechpartnern: Hardy Feiler
Interesting News for Bavarian Springboks!
Oktoberfest 7s
It is now less than two months until our next edition of the Oktoberfest7s and we have very high hopes for a fantastic tournament. Alongside our German national team, we'll have seven of the worlds top teams, including of course South Africa, and this time also New Zealand and the USA, this year's winners of the World Series. The tournament will be held this time on the first weekend of the Oktoberfest (21 & 22.9) with the pool phase on the Saturday and the knockout games and final on the Sunday. 
Would you please be good enough to remind all members of this upcoming event and we very much hope that as many of them (and as many of their friends) as possible will join. Although probably more than you need, I'm attaching the website and link for purchasing tickets, a short presentation on the teams and the schedule and a short promotional video with impressions of our 2017 tournament for those who weren't there. 
Sincere thanks in advance for broadcasting this.
Warm regards,
Tom
https://vimeo.com/346923486/40b467e81e
Cape Town Opera Company in Germering
I would like to bring to your attention a concert which will be given by 5 soloists from the Cape Town Opera Company in Germering on Friday 20th of September.
Maybe you could inform our members.
The tickets cost 38 Euros each.
Veranstaltungsort
Stadthalle Orlandosaal
Landsberger Str. 39
82110 Germering
Beginn 19:30 Uhr
Der Kartenvorverkauf für das Benefiz-Konzert der Cape Town Opera hat begonnen. Tickets gibt es ausschließlich bei https://www.muenchenticket.de/guide/tickets/27rhl/Cape+Town+Opera+in+Concert.html
Mit afrikanischen Liedern und einem Potpourri aus Oper und Musical treten die schönsten Stimmen Afrikas im Germeringer Orlandosaal auf. Die Sängerinnen und Sänger gastieren im Rahmen einer Deutschland-Tournee am 20.09.2019 in Germering.
In Kapstadt, Südafrika, steht das einzige Opernhaus des afrikanischen Kontinents, das ein eigenes Ensemble unterhält. Solisten der Cape Town Opera (CTO) reisen immer wieder zu Konzertabenden nach Europa und füllen Säle in Paris, Rom und London. Auf Einladung mehrerer Rotary-Clubs kommen die schönsten Stimmen Afrikas im September nach Deutschland, unter anderem auch nach Germering. Weitere Auftritte gibt es in Hamburg, Esslingen und Dortmund. "Wir sind sehr stolz, dass wir Germeringer die Cape Town Opera für dieses einzigartige Konzert bei uns gewinnen konnten", sagt Florian Wackermann, Präsident des hiesigen Rotary Clubs.
Neben Klassikern von Wolfgang Amadeus Mozart, Richard Strauss, Jacques Offenbach und anderen geben die fünf Solistinnen und Solisten der CTO auch afrikanische Lieder zum Besten. Begleitet werden sie von einem Pianisten der Oper aus Kapstadt. Mit ihren Gagen finanzieren die Künstlerinnen und Künstler Schüler- und Jugendprojekte in Südafrika.
Aber auch Germering profitiert von diesem Konzert. Denn mit dem Erlös aus Ticketverkauf, Spenden und Sponsoring wird der Rotary Club Germering die Gründung eines Projekts "miteinander füreinander in Germering" unterstützen. Die Schirmherrschaft für diese Veranstaltung hat Oberbürgermeister Andreas Haas daher sehr gern übernommen. Tickets gibt es für 38 Euro bei München-Ticket.
Die CTO bietet jungen Sängern eine dauerhafte Beschäftigung und engagiert darüber hinaus für ihre Produktionen jährlich mehr als 200 Choreografen, Musiker, Regisseure, Designer und Techniker auf der Basis von Ad Hoc-Verträgen. Neben den klassischen Opern fördert die CTO auch die Entwicklung einer eigenen nationalen Identität durch Schaffung und Aufführung südafrikanischer Werke wie die "Mandela Trilogy" oder das Musical "Tsotsi".
Concert Drei Tableaux with Joan Schneider and others
Freitag, 26. Juli 2019                                             20::00
Drei Tableaux
Drei Pianistinnen spielen drei Soloprogramme
Dora Novak-Wilmington, Joan Schneider und Carolin Danner spielen Werke von Martinu, Novák, Liszt, Jannotta, Debussy, Kurtág und Rachmaninoff
Die Pianistinnen stammen aus drei verschiedenen Ursprungsländern: Dora Novak-Wilmington aus der Tschechischen Republik, Carolin Danner aus Deutschland und Joan Schneider aus Südafrika.     Die gemeinsame Liebe zur Kammermusik brachte die Musikerinnen in verschiedenen Lebensphasen zusammen: Dora Novak-Wilmington und Joan Schneider traten früher als Klavierduo auf, Carolin Danner wurde über die Arbeit an das Repertoire für Klaviertrio Klavierschülerin von Joan Schneider.
schwere reiter
Dachauer Straße 114, Leonrodplatz
Konzertbeginn 20 Uhr
Eintritt 14,- Euro, erm.10,- Euro                                                                                                                             Abendkasse ab 19 Uhr                                                                                                                           Kartenreservierung: www.schwerereiter.de
Club donation for Phumelela Saturday Programme
From: Jacinta Lucas <jlucas@holyrosaryschool.co.za>
Date: Saturday 9 February 2019 at 11:17
To: Genevieve Gundelfinger <genevievegundelfinger@compuserve.com>
Cc: "'j.lucas@mweb.co.za'" <j.lucas@mweb.co.za>
Subject: Springbok Club donation
Dear Members of the Springbok Club
Thank you so much for the generous donation towards our Phumelela Saturday programme. Your ongoing support of this programme is truly appreciated.
Our programme continues to help young people who come from very disadvantaged backgrounds. We had wonderful news in January: one of our 2018 matric students, Glen Mlambo, achieved wonderful  results. He got 85% for Maths, 96% for Accounting, 85% for Business Economics and 91% for Economics. He will be studying a BCom at Wits university. One of 2017 matric, Papi Kubheka, has been granted a full bursary from the Department of Agriculture to do a BSc in plant pathology at the University of Pretoria. We are so proud of these young people and it is our Debutantes, who raise so much money for the programme, as well as generous donors such as you that make it possible for us to do this wonderful work.
May God bless you all.
Kind regards
Jacinta Lucas
Head of School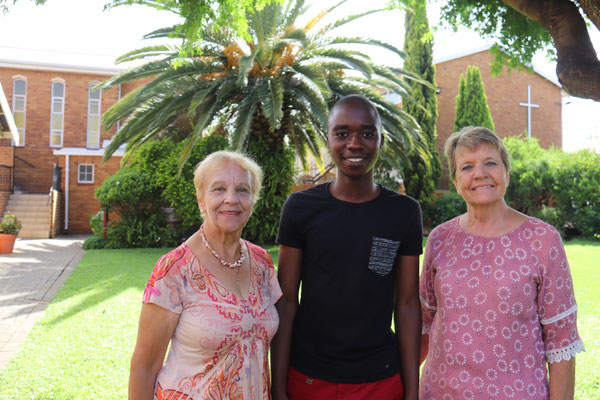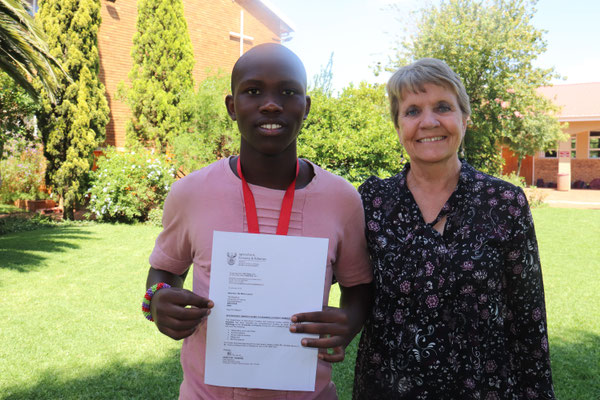 Letters from South Africans in BBC
https://www.bbc.co.uk/programmes/b09j34pw
South Africans Abroad! Make sure you #RegisterToVote on 1- 4 February 2019
Save the date. If you aren't yet registered to vote, or you know of a South African abroad who isn't registered, then please take note - overseas voter registration will take place from 1 - 4 February 2019 at 120 South African foreign missions.

In order to register and vote abroad you need to do the following:

STEP 1️⃣ Check your registration status on the IEC's website. If you are already registered to vote in South Africa, you DO NOT need to re-register in order to vote abroad. 

STEP 2️⃣ If you are not registered and wish to do so, please bring BOTH your valid SA Passport & ID Book/Smart Card in order to register at your nearest SA foreign mission. 

STEP 3️⃣ Once registered you will need to submit a VEC10 form on the IEC website informing them where you intend to vote abroad. This form will only be available once the date of the election is announced, and you will only have 15 days to do so.

If you are already registered, please update your details with us so we don't keep reminding you to register. 😉

The date for the election has not yet been confirmed, but is expected to take place in May 2019. 

Please join our Facebook event for the overseas voter registration weekend to receive the latest updates and also to invite other South Africans living abroad so they don't miss out. EVERY VOTE COUNTS!

If you have any questions about voting abroad email us at contact@da-abroad.org or send us a message on WhatsApp https://wa.me/447958291141
DA Abroad Leader, Francine Higham, addresses the ongoing frustrations with the lack of improvement to access to voting abroad in the Daily Maverick.
 
Despite the DA's numerous attempts to address the issues with the IEC and government, little progress has been made. In fact, quite the opposite, with South Africans being turned away from registering to vote at some foreign missions, and our Private Members Bill which sought to address these issues flatly rejected by the portfolio committee on Home Affairs. Even today, our proposed amendment to the Electoral Laws Amendment Bill requesting more voting stations abroad was blocked by the Chairperson of the NCOP, Thandi Modise.
Unless the IEC and Dirco show a genuine commitment to ensuring the rights of ALL South Africans abroad to vote by increasing the number of voting stations and holding overseas voting on a weekend, while taking immediate steps to resolve the issues experienced by those attempting to register at South Africa's foreign missions, the 2019 national election may not be deemed free and fair.
Read the full article here [+]
A new South African Shop has recently opened!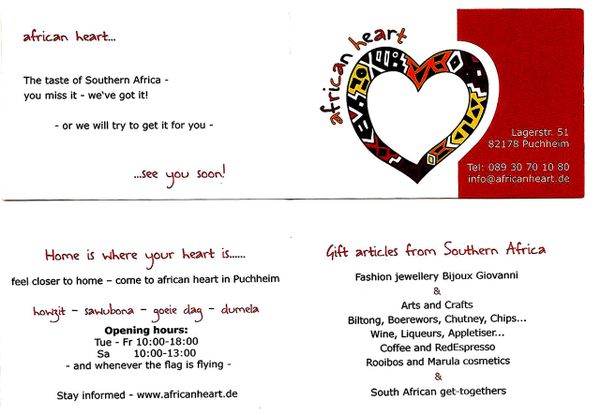 Community Service Project – ReCycle - used adult and children bikes for children in South Africa.
Fahrrad.de is collecting adult and children used, working bicycles (don't have to be in perfect condition) and is sending them to SOS-Kinderdorf in Capetown and Pietermaritzburg, South Africa.  If you go into the Fahrrad.de website, then click on ReCycle you can get to the Abholformular (pick-up formula) and they will pick up the bike at your house.  They will be checked out and then shipped to South Africa.  If you have any questions about whether your bike is something they are looking for you can call 08005500001.