Interesting News for Bavarian Springboks!
Concert on 14th October 2018
Roger Jannotta   AN UNEVEN DECADE
Werke für Klavier solo
Joan Schneider, Klavier
Sonntag 14.10.2018   18 Uhr
Cantabile (1975)
An Uneven Decade (2013)
Toccata (2001)
four Jane (2004)
King Lear Variations (1992/2015)
Parliamentarians (1989/2015)
Forest (1996)
Pause
Sonata 2015
I     The dissonance of a major chord
II    One color fits all
III   A pianist warms up before a concert
      while her dog walks on a wooden floor
IV   It's really only a rondo, but maybe it isn't
Kontrapunkt Klavierwerkstatt GmbH
Dorfstraße 39 / Hofgebäude
81247 München
Eintritt €15,-
Kinder Eintritt frei
Reservierung: konzerte@klavierwerkstatt.com
Es mag überraschen, dass Roger Jannotta, der vielen als Jazz-Musiker bekannt ist, sich auch klassischen Klavierwerken verschreibt. Diese stellen allerdings nur einen kleinen Teil seines Werks dar, das zahlreichen Kompositionen und Arrangements für Jazz- und Klassik-Ensembles sowie für Orchester umfasst. Hinzu kommt     seine Musik für Theater, Film und Fernsehspiele.
Das Programm enthält Kompositionen für Klavier, die in einer Zeitspanne von vierzig Jahren zwischen 1975 (Cantabile) und 2015 (Sonata) entstanden sind.
Mit der Pianistin Joan Schneider arbeitet Roger Jannotta seit einer Dieter-Dorn-Inszenierung an der Stuttgarter Theaterakademie 1989 zusammen. Die damals begonnene musikalische Zusammenarbeit entwickelt sich bis heute beständig weiter.
Roger Jannotta, amerikanischer Komponist, Arrangeur und Instrumentalist (Flöte, Saxophon, Klarinette, Oboe) lebt seit 1978 in München. Er studierte Musik ab der University of New Mexico in Albuquerque, am Mozarteum in Salzburg, außerdem Komposition am Royal College of Music in London und am New England Conservatory in Boston. Danach lehrte er an der Berklee School of Music in Boston und an der University of New Mexico, außerdem an der Hochschule für Musik und Theater in München (Jazzabteilung).
Von seinen zahlreichen Engagements als Musiker und Komponist sollen hier genannt werden:
Münchner Kammerspiele (1978-1999), Carla Bley Bigband, Michael Mantler, ICI Ensemle München, Children at Play, Harry James Orchestra, Thorsten Klentze, Münchner Symphoniker, Passau Jazz Orchester. Als Arrangeur arbeitete er unter anderem für Blechschaden (Bob Ross und die Blechbläser der Münchner Philharmoniker), die Bayerische Theaterakademie August Everding, das Münchner Rundfunk Orchester, das Landestheater Niederbayern, die ZDF Sendung Eine Große Nachtmusik.
1972 bekam er den Staatlichen Kunstpreis für Komposition (National Endowment for the Arts Award, USA).
1999 wurde er Preisträger beim Günter-Bialas-Wettbewerb für neue Kammermusik (Hochschule für Musik und Theater, München).
Joan Schneider, gebürtige Südafrikanerin studierte nach dem Bachelor of Music in Johannesburg an der Münchner Musikhochschule mit Klavier im Hauptfach. Parallel zu ihrer solistischen Ausbildung profilierte sie sich als Liedbegleiterin in Kursen von Erik Werba und Ernst Haefliger.
Die Bandbreite ihres Repertoires reicht vom Barock zur Musik des 21. Jahrhunderts mit Schwerpunkten wie Arnold Schönberg und John Cage. Sie war Mitbegründerin des Munich Art Ensembles für Neue Musik und wirkte als Solistin und Kammermusikpartnerin in zahlreichen Musikfestivals mit, wie Breminale, Münchner Stockhausentage, Ludwigsburger Schlossfestspiele, Dresdner Tage der Zeitgenössischen Musik und in Münchner Reihen wie Ensemble und Stimme der Münchner Philharmoniker, Worte und Musik, Musik zwischen den Stühlen, Verhört?.
Mit der Schauspielerin Christa Weber führte sie verschiedene Kabarettprogramme zu den Kompositionen von Christof Herzog auf. Seit den achtziger Jahren spielt sie in Duo- Programmen mit Christopher Barritt, dem Solocellisten der Münchner Symphoniker und Roger Jannotta. 
TUKS Women´s Rugby 7s  6th October 2018
TUKS Women's Rugby Team 7s 
( https://www.up.ac.za/en/womensrugby/article/2717244/overview 
Any help offered would be much appreciated. 
As to the tournament itself, this will be held on the 40th Oktoberfest 7s this year and be held on 06.10.18 starting at 09.00 at the ZHS (Zentral Hochschule Sprotanlage) at the end of the Conollystrasse (near the Olympic village). This years tournament currently looks like hosting 16 male teams, 8 female teams and an Alteherren 15s tournament involving 6 old mens teams (35 and over) from all over the world (Japan, NZ, USA, Italy and Holland). Spectatotors are of course, very welcome.
Lecture on 28th November 2017
Name: Dr. Heinrich Matthee
E-Mail-Adress: heinrich.matthee@jisr.eu
Message: Zumas Nachfolge: Risiken und Chancen für deutsche Unternehmen
und NGOs in Südafrika
Am Dienstag, den 28. November 2017, veranstaltet die Stiftung South
African Monitor ein Seminar zu diesem Thema im Museum Fünf Kontinente,
Vortragssaal 1, OG, Maximilianstraße 42, 80538 München.
In Südafrika spitzt sich der Wettlauf um die Nachfolge des Präsidenten
Jacob Zuma zu. Das Ziel dieser Veranstaltung ist die Beurteilung der
politischen und wirtschaftlichen Situation im Land und eine Diskussion
der Risiken und Chancen deutscher Unternehmen und NGOs in Südafrika.
Programm:
19.00 - 19.15: Begrüßung und Einführung: Südafrika: Herausforderungen für
deutsche Unternehmen und NGOs ‹ Dr. Heinrich Matthee
19.15 - 19.45: Das Westkap ­ Partner- und Investitionsregion in der
Republik Südafrika ‹ Dr. Martin Pabst
19.45 - 20.15: South Africa at a crossroads ­ again ‹ Dr. Theuns Eloff
20.15 - 21.00: Diskussion
21.00: Empfang
Bitte schicken Sie die Bestättigung Ihrer Teilnahme an
admin@sa-monitor.com UND samonitor1@gmail.com (Bitte an beide Adressen
senden) bis zum 25. November.
Kurzbiographie der Redner
Dr Martin Pabst ist Leiter eines politischen Forschungs- und
Beratungsbüros in München. Er ist Mitglied des Redaktionsausschusses der
Zeitschrift Vereinte Nationen, und veröffentlichte diverse Bücher sowie
wissenschaftliche Aufsätze u.a. für die KAS Auslandsinformatioinen,
Politischen Studien, Aussenpolitik: German Foreign Affairs Review und
Europäische Sicherheit und Technik. Seit 2008 ist er stellvertretender
Vorsitzender der Deutschen Gesellschaft für die Vereinte Nationen,
Landesverband Bayern.
Dr. Heinrich Matthee ist politischer Analyst für Unternehmen im Nahen
Osten und Afrika. Er ist auch Fellow am Zentrum für Afrikastudien an der
Universität Leiden und Gastforscher an der Universität Amsterdam in den
Niederlanden. Er war Forscher und Redakteur der Emirates Occasional
Papers am Emirates Centre for Strategic Studies and Research in Abu Dhabi
(VAE) und Nahost Analyst der Sicherheitsfirma Control Risks in London. Er
promovierte an der Universität Marburg zum Dr. phil. (magna cum laude)
und ist Autor zweier Bücher.
Dr. Theuns Eloff ist geschäftsführender Direktor der FW de Klerk Stiftung
und früherer Vizekanzler der Nordwest-Universität. Er war Verwaltungschef
bei den südafrikanischen Verfassungsverhandlungen und diente als
stellvertretender Direktor des Transitional Executive Council bei den
historischen Wahlen in 1994. Er war auch Vorsitzender der Höheren Bildung
Südafrika und der Vereinigung der Universitäten des Commonwealth. Ihm
wurden verschiedene Auszeichnungen verliehen, darunter Ten Outstanding
Persons of the World des JCI und 100 Global Leaders for Tomorrow des
Weltwirtschaftsforums, sowie ein Ehrendoktorat der Universität London
South Bank.
International Rugby Sevens Tournament
The Oktoberfest is just around the corner.  This year for the first time the Oktoberfest will also be the occasion for a spectacular international Rugby Sevens tournament – the "DHL Oktoberfest 7s.
For those of you not familiar with Sevens rugby, it is the increasingly popular shorter and faster version of the traditional game and since Rio de Janeiro 2015 has been an Olympic sport.  Now, on the last weekend of the Oktoberfest we will have an international tournament in our own Olympic Stadium in which, along with nine other teams, the Gold, Silver and Bronze medallion winners from Rio will be represented.  Included, of course, will be the Blitzbokke, South Africa's Sevens team, who won the Bronze and have now gone on to win the 2016/7 HSBC Sevens World Series.
Germany is clearly not rugby land.  But the game is growing rapidly here and German teams, both men and women, are making great strides in international competitions. This is especially true of Sevens, a game which is both extremely attractive for young athletes and terrifically entertaining for spectators. It was introduced to the Olympics as a sport with "the physicality of judo, the skill of rhythmic gymnastics, the athleticism of the 400m dash, the aggression of sprint cycling, and the gut-busting endurance of rowing. It's fast and funky and fun. And it's ready to bust out all over."
If this has peeked your interest, we have through one of our members been granted a discount on the ticket price. So, do take advantage of this and reserve your tickets by clicking on the following link and enter the promotion code: "PROMO1": promotickets.oktoberfest7s.com/.
Everything speaks for a wonderful tournament –
Once again my studio will be open for viewing- this year from 4th of December!
I'd really be delighted to show and discuss my latest works- theme this time is 'NOMADE'...a very significant one that will probably continue for a number of years. I have realized that I am a nomad, living and working in 3 different parts of the world; Germany, Italy and South Africa. Like so many other South Africans I also travel regularly to Australia, and even the United States to visit close family members.

I hope to see you all at my exhibition.

With heartfelt best wishes
Frances

2015 Murnau Exhibition "Das Blaue Land"
2015 Murnau Exhibition-1[4].pdf
Adobe Acrobat Document
417.9 KB
A new South African Shop has recently opened!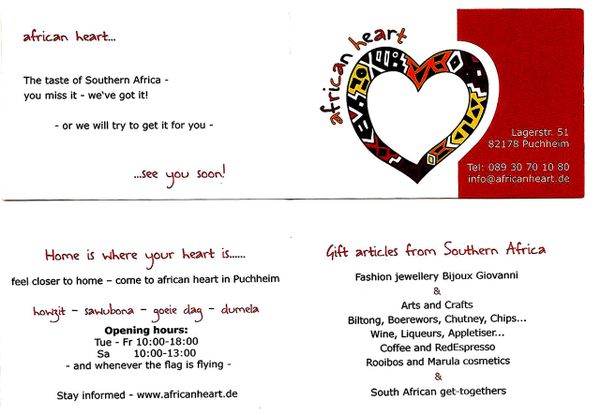 Community Service Project – ReCycle - used adult and children bikes for children in South Africa.
Fahrrad.de is collecting adult and children used, working bicycles (don't have to be in perfect condition) and is sending them to SOS-Kinderdorf in Capetown and Pietermaritzburg, South Africa.  If you go into the Fahrrad.de website, then click on ReCycle you can get to the Abholformular (pick-up formula) and they will pick up the bike at your house.  They will be checked out and then shipped to South Africa.  If you have any questions about whether your bike is something they are looking for you can call 08005500001.