Interesting News for Bavarian Springboks!
International Rugby Sevens Tournament
The Oktoberfest is just around the corner.  This year for the first time the Oktoberfest will also be the occasion for a spectacular international Rugby Sevens tournament – the "DHL Oktoberfest 7s.
For those of you not familiar with Sevens rugby, it is the increasingly popular shorter and faster version of the traditional game and since Rio de Janeiro 2015 has been an Olympic sport.  Now, on the last weekend of the Oktoberfest we will have an international tournament in our own Olympic Stadium in which, along with nine other teams, the Gold, Silver and Bronze medallion winners from Rio will be represented.  Included, of course, will be the Blitzbokke, South Africa's Sevens team, who won the Bronze and have now gone on to win the 2016/7 HSBC Sevens World Series.
Germany is clearly not rugby land.  But the game is growing rapidly here and German teams, both men and women, are making great strides in international competitions. This is especially true of Sevens, a game which is both extremely attractive for young athletes and terrifically entertaining for spectators. It was introduced to the Olympics as a sport with "the physicality of judo, the skill of rhythmic gymnastics, the athleticism of the 400m dash, the aggression of sprint cycling, and the gut-busting endurance of rowing. It's fast and funky and fun. And it's ready to bust out all over."
If this has peeked your interest, we have through one of our members been granted a discount on the ticket price. So, do take advantage of this and reserve your tickets by clicking on the following link and enter the promotion code: "PROMO1": promotickets.oktoberfest7s.com/.
Everything speaks for a wonderful tournament –
Once again my studio will be open for viewing- this year from 4th of December!
I'd really be delighted to show and discuss my latest works- theme this time is 'NOMADE'...a very significant one that will probably continue for a number of years. I have realized that I am a nomad, living and working in 3 different parts of the world; Germany, Italy and South Africa. Like so many other South Africans I also travel regularly to Australia, and even the United States to visit close family members.

I hope to see you all at my exhibition.

With heartfelt best wishes
Frances

2015 Murnau Exhibition "Das Blaue Land"
2015 Murnau Exhibition-1[4].pdf
Adobe Acrobat Document
417.9 KB
A new South African Shop has recently opened!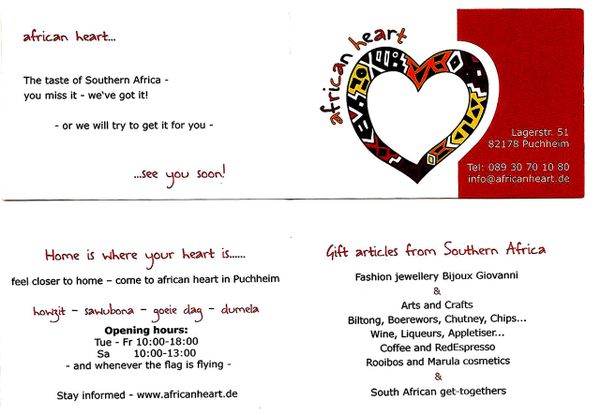 Community Service Project – ReCycle - used adult and children bikes for children in South Africa.
Fahrrad.de is collecting adult and children used, working bicycles (don't have to be in perfect condition) and is sending them to SOS-Kinderdorf in Capetown and Pietermaritzburg, South Africa.  If you go into the Fahrrad.de website, then click on ReCycle you can get to the Abholformular (pick-up formula) and they will pick up the bike at your house.  They will be checked out and then shipped to South Africa.  If you have any questions about whether your bike is something they are looking for you can call 08005500001.